The Sniper Capricorn is the twenty-fifth episode of the Metal Fight Beyblade anime.
Prologue intro 3 starts in this episode, and lasts to episode 39.
Statistics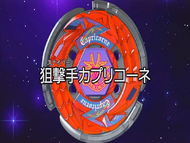 Original Airdate: September 20, 2009
English Airdate: September 18, 2010
Opening Song: Metal Fight Beyblade ver.1
Ending Song: Boys ~Hikari Kagayaku Ashita He~
English Dub Title: The Sniper Capricorn
Kanji: 狙撃手(スナイパー)カプリコーネ
Romaji: "

Sunaipaa

Kapurikoone"
Arc: Untitled
Prologue Intro 3: Battle Bladers (Part 1)
Battle Bladers
That is the greatest stage, where the Number One Blader will be decided.
Behind the dreams of would-be participants, a dark conspiracy swirls ominously!
This is the story of passionate Bladers who, in order to hinder these evil aspirations, are aiming for Battle Bladers!
Summary
Cuts/Changes made in the Dub
Characters/Beys in Order of Appearance
rock leone 145wb
storm capricorne m145q
Capricorn Lightning Screwdriver
This is capricorn's 2nd finishing move.